We are so happy to be back open and serving you lovely lot in Bristol (Cardiff is temporarily closed due to COVID-19 restrictions. Please keep checking back for reopening times) !
Please be aware we are not taking bookings for more than 6 people, and our opening times are slightly altered to ensure optimal saftey for you and our team. Please keep checking for our most recent opening times.
As a small independent business, we would like to thank you so much for your custom - we couldn't do it without you!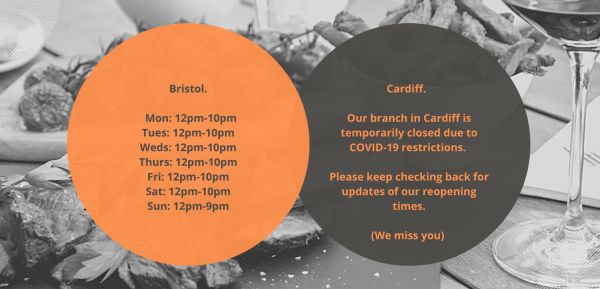 Things will be different for a while as we adjust to the new guidelines from the government, please bear with us while we open our doors after three months of lockdown. To help create a safe environment for everyone, we're enhancing our high standards of hygiene even further. There will also be some changes to our normal style of service ensuring everyone is safe, but you can rest assured that everyone will still get a warm welcome from the SOTA team! For news updates on guidance and SOTA innovation you can find us on Facebook and Instagram. Thank you for supporting and bearing with us!

OPENING TIMES AND MENU LIMITATIONS

We've temporarily reduced our opening hours and we're serving a reduced menu while our suppliers play catch up and we ensure social distancing can be guaranteed.

CLEANING POLICY

We've deep cleaned every inch of the restaurant and will continue to do so. Thorough cleaning routines are taking place regularly all day, every day.

​TABLE MANAGEMENT

We've increased the frequency of our cleaning routines. Every table is cleaned thoroughly at the end of every customer visit.

PAYMENTS

We're encouraging contactless payments to avoid handling cash. So in the short term we wont be able to accept cash payments. The contactless limit for card payments has increased to £45. You can use Apple and Googlepay.

SOCIAL DISTANCING

We have introduced new measures to ensure that we meet government advice on safe distancing. We ask all our customers to be respectful of this policy when they visit us.

SAFETY FIRST

If you have any of the following symptoms, please do not visit our restaurant.

• Continuous cough
• High temperature
• Shortness of breath

MENUS

We're excited to be open again but as we come out of lockdown and our suppliers ramp themselves back up for service, some ingredients and dishes on our menus may not be available.

​SEATING GUIDELINES

The safety and well-being of our customers and team members is our top priority. In order that we can meet the current UK Government guidelines regarding safe distancing, for now, the maximum number of guests per table booking is 6 and must not be from more than 2 households.

CUSTOMER NUMBERS

In order to meet the current UK Government guidance on safe distancing in our restaurant, we have had to make some changes to our interior layouts. Please make sure you speak to a team member before sitting down at a table, even if it's unoccupied. We will be on hand to guide you along. We will be operating a one way system in the restaurant.

TOILET CAPACITY

Our ability to maintain strict cleaning processes is essential to delivering the UK Governments guidelines. Therefore we will be operating a one in one out policy in our bathrooms.

Steak of the Art gift vouchers are a perfect gift for any occasion or 'just because', and are available online. Click below to buy.

We work with some of the best farmers including Warson Farm in Devon and Willersley Court in the Welsh Borders who care about their meat as much as we do. Once we met our farmers David Andrews and Johnny Morris and butchers Ian Warren and Neil Powell we knew these guys were right for us.

Their approach to ensuring they have quality beef matches our approach to food. Pouring the same passion and attention to detail into everything from animal husbandry and how to get the best from their cattle to the use of Himalayan rock salt in the hanging/drying rooms to maintain the correct humidity levels. Warren's also ensure all our other meat ingredients have the same quality attributes as our beef.

With our fish we insist on working with companies that understand about freshness and sustainability. Fish for Thought and Paul Trudgian instantly pressed the right buttons for us.